B3M-SB-1040-A
5pcs set No.03073  Open
<Spec>
  [12V]
  Max Torque: 4.1[Nm] (42[kgf・cm])
  No load Speed: 45[rpm] (0.22[s/60°])
  Size: 32×32×51mm
  Case type: B3M-1000 series
  Weight: 88[g]
  Maximum operating angle: ±320[degree]
    (±327.67[degree]) (In Position control)
  Power-supply voltage:6~12V
  Standby current: 80[mA]
  Gear ratio: 362.88:1
  Operating temp.: 0~40[℃]
  Control resolution: 12bit/1round (0~4095)
  Operation system:
        Position control,
        Speed control
  Rotation mode can be used with mode switching.

<Interface>
  RS485USB/Serial conversion adaptor
<Accessories>
  XH connection cable 400mm  1pcs
  Aluminum clamping horn (Installed) 1pcs
  5pcs set
  XH connection cable 400mm  5pcs
  Aluminum clamping horn (Installed)  5pcs
Made in Japan
Product Description
B3M-SB is a servo aiming for high reliability and long life by using a brushless motor or contactless magnetic encoder.
Top case and middle case are made from aluminum. Also using a high strength gear with hard alumite treatment on the aluminum gears, high durability has been acheived.
We redesigned the control program and implemented a system with high function and easy to use. It is possible to change detailed parameters such as PID control setting values. In addition, various limiters such as temperature limit and operating voltage limit are installed.
The operation resolution can be specified with the fineness of 4 times as much as the conventional one. They can be controlled with just a simple six kinds of commands.
The control can be selected from position control and speed control. With position control, you can specify the angle over a wide range of 320 ° on one side. In addition, you can choose from 5 types of Trajectory Generation Types, such as 4-1-4 polynomial interpolation method.
[High reliability usage,, long life brushless motor]
Because there are no brushes to wear parts, it can be used for a long time.
[Adopt high precision 12 bit magnetic encoder]
The contactless magnetic encoder has a long life because there is no contact part.
With a resolution of 12 bits, the minimum resolution is 0.088 ° (0 to 4095)
[Reliable RS-485]
Communication is RS-485 compliant. Due to the differential signal, it is resistant to noise and high-speed communication of 3 Mbps is possible. Up to 255 items can be connected by daisy chain connection. (Theoretical value)
[Easy control with 6 kinds of few commands]
Servo control is possible with only six kinds of commands.
Since memory-mapped I / O is adopted, it operates only by reading / writing data of memory.

 B3M Series Software Manual(English)
[Multicast command]
You can set the ID number for each servo. Also, ID = 255 is used as the Broadcast ID. It is possible to execute all the daisy chain connected servo motors at the same time.
[Position gain, Differential gain, Integral gain]
PID control parameters can be adjusted during Position control and Speed control. Also, if you use the gain preset function, you can register three gains in advance, so you can quickly change the gain with the preset number.
[System error detection function · Software limit]
Various system errors such as input voltage, MCU temperature, motor temperature, motor lock etc. are saved in memory. In addition, the limit function for safety is carried. By limiting the temperature of the motor and MCU, it is possible to reduce the cause of failure.
[specification]
Motor
  Brushless DC motor
Case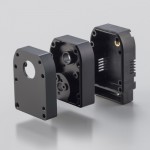 Weight: 86 [g]
  Size: 32×32×51mm  (Dimension)
  Top case: Duralumin
  Middle case: Duralumin
  Bottom case: Glass filled resin
Gear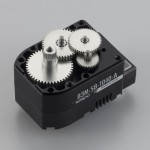 Gear1: Extra super Duralumin
  Gear2: Extra super Duralumin
  Gear3: Extra super Duralumin
  Final Gear: Aluminum alloy
Control Method
  Position control mode: PID control
  Speed control mode: PI control
· Communication system: RS-485 (half duplex communication)
· Encoder: 12 [bit] Magnetic encoder
· Limiter: Lock detection, Motor overcurrent, Operating angle limit, Temperature limit, Operating voltage limit, etc.
· Gain preset function: PID gain can be selected from up to 3 presets
· System error detection: The error contents are retained in the main body when each error occurs.
· LED: Status LED will blink according to error contents
· Command: It has 6 simple commands
Command
  [Load] Load data saved in Flash memory to RAM (memory map)
  [Save] Save data on RAM (memory map) to Flash memory
  [Read] Read data by address specification from RAM (memory map)
  [Write] Write data to RAM (memory map) with address specification
  [Position] To move plural servo motors simultaneously while generating orbits
  [Reset] Specify the time and restart the system
Parameter storage function: Various parameters can be saved in Flash ROM area
Reset function: Reset can be externally applied with time designation
Single / multicast command: Instructions can be sent to all or part of the unit as well as individual servos (limited)
Communication Properties
  Communication System: RS-485
  Transfer mode: Half duplex asynchronous communication
  Communication protocol: data length 8 bits / start 1 bit / stop 1 bit / no parity
  Command signal: digital packet
  Main parameters: ID number, Various limit items, PID control Various gains, etc. About 60 kinds
  Number of unique IDs: 0 to 254 (255 is reserved as the Broadcast ID)
  Communication speed: Up to 3 Mbps, standard 1.5 Mbps (guard time about 200 us)
  Connector: XHP-4 (1pin GND/2pin Vcc/3pin D+/4pin D-)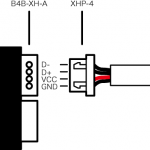 Daisy chain: RS-485 line can be shared by multiple devices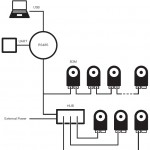 This product is controlled with PC or UART based device by using "RS485USB/Serial conversion adaptor".
Appearance, specifications etc. may be changed without notice. Please note.
[Control method]
Control from PC
By using the "RS485USB/Serial conversion adaptor" you can control the servo directly from the PC. Please send the command referring to the published "B3M Series Software Manual(English)". Communication methods and samples are also published, so please see the following article for details.
Items:
  RS485USB/Serial conversion adaptor
Control from Microcomputer board or PC board
B3M servo can be controlled from the UART terminal of the commercial board. Circuits necessary for communication are prepared on this conversion board. You can communicate with the B3M servo simply by connecting each terminal to the board. Please refer to "B3M Series Software Manual(English)".about communication method and command.
Items:
関連するオプション