KRS-3204 ICS
6pcs set  No.03101  Open
18pcs set No.03102 Open
<Spec>
 [7.4V]
 Max Torque: 9.3kg・cm
 Max Speed: 0.13s/60deg.
 [6.0V]
 Max Torque: 7.5kg・cm
 Max Speed: 0.18s/60deg.
 Size: 33×15×26mm
            (Excluding protrusions)
            (Dimension)
 Weight: 27.2g
 Maximum operating angle: 270°(±135°)
 Gear: Metal gear
 Case: Plastic
 Gear ratio: 290.17:1
 Power-supply voltage: LV(6-7.4V)
 Cable: Fixed type(350mm)
 Connector: Servo connector
 Communication standard: ICS3.5 (Serial/PWM)
 Baud rate: 115200/625000/1250000bps
 Initial setting: Normal mode(Serial/PWM both)
 Signal level: TTL
 Rotation mode: Possible
<Supported control board>
 RCB-4HV
 RCB-3HV
 KCB-5
<Interface>
 Dual USB Adapter HS
 ICS USB Adapter HS
<Accessories>
 M3-8 Low head screw for servo horn
Made in Japan
Product Description
KRS-3204 ICS is a small servo of standard type design. Since this servo employs a high output coreless motor, it outputs a maximum torque of  9.3kgf · cm (at 7.4 V). To secure the durability when using it with a biped walking robot, we adopted a metal gear.
[Product Specifications]
Gear: Metal gear
Since all gears are metal, it has sufficient durability.
By supporting the shaft of the final gear with a bearing, stable operation has been realized.

Case: KRS 3200 Series
The case of KRS - 3200 series is thin, easy to secure the movable range.
Communication specifications: ICS3.5
Communication uses ICS3.5, which allows you to select between serial and PWM. Servo motor communication can be changed based on the microcomputer board used for control.
Also, in serial mode, with serial and PWM, IDs can be assigned to the servo motors, so multi-drop connection in which the servo motors are connected is possible. A red LED light indicating the communication status is mounted on the main unit. ICS3.5 allows you to change various items like the servo motor's operating speed and retention characteristics. For details, refer to the following.
* Servo motor settings require Dual USB Adaptor HS or ICS USB Adaptor HS.
Frame data
Data of joint parts that can be used for KRS-3204 has been released. You can try outputting with a 3D printer.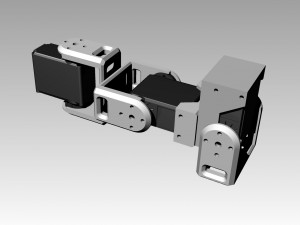 [Cautions]
*The product is a 6-7.4V servo motor. HV batteries cannot be used.
*When used in combination with RCB-4HV/3HV and Ni-MH5 cells (6V) or Li Fe2 cells (6.6V), use Booster 3.1 (booster circuit). When Li Po2 cells (7.4V) are used, this is not necessary. It also is not necessary with RCB 4mini.
 Booster3.1 for RCB-4HV
 Booster3.1 for RCB-3HV
*The communication mode at shipment is Normal Mode, so you can switch between serial mode and PWM mode depending on the high/low of the signal wire after powering up.When used with RCB4, it is automatically recognized to be in serial mode. Use the product after assigning it to a servo motor ID number. For details on communication specifications, refer to the Software Manual.
When used with serial-only (PWM prohibited), switch using the Dual USB Adaptor HS sold separately.
    About KRS Servo Motor Communication Modes
*For the securing screws on the free horn side, use a 2.6-4 flat head screw. If a 2.6-6 flat head screw (included with KHR-3HV, etc) is used, they may pierce the case and break the base.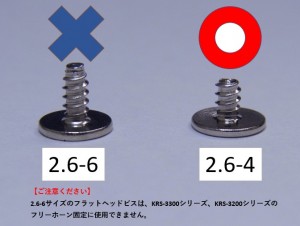 *To secure the frame to the upper case, use 2 mm screws.
[Power supply]
For LV servo, please use 2 cell (6.6 V) lithium ferrite battery(Li-Fe).
  ROBO Power Cell F2-850 type (Li-Fe)
  ROBO Power Cell F2-1450 type (Li-Fe)
*Handling the battery requires caution.Please read this article before using.
6-cell (7.2 V) battery of Ni-MH can also be used.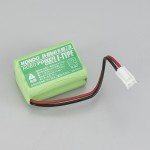 ・ROBO Power Cell E-type 6N-800mAh (Ni-MH)
Charger
*BX-31LF / 32MH can not be charged from the PC's USB terminal. Please do not connect charger to PC. Please use the AC adapter (2A recommended) to be used for charging the smartphone etc.
AC Adapter
For robots with fewer servos mounted like arm type, you can use the following AC adapter. Be careful of the current capacity when using it.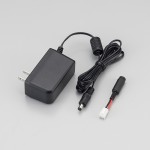 Information on KRS servo is prepared collectively in "ICS · KRS Servo Development Material". In addition, we also have various information on robots in "Technical Guide", so please refer to it.
関連するオプション
関連するサポート情報