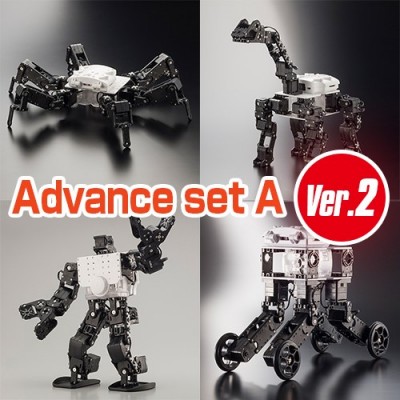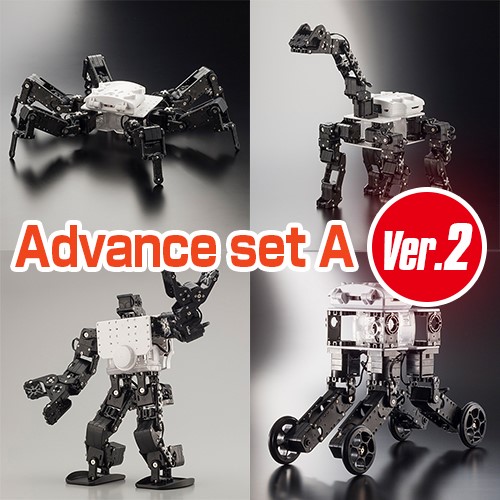 KXR Advanced Set A Ver.2
<Kit Contents>
    KXR parts
    Control board RCB-4mini
    Servos: 
        KRS-3302 ICS 12pcs
        KRS-3304R2 ICS 6pcs
    ROBO Power Cell E type
                  6N-800mAh Ni-MH
    Charger BX-32MH
    Dual USB Adapter HS
    Cables, Screws, etc.
<Software operating environment>
    OS: Windows 8.1, 10 
    USB Port(1.1/2.0)
 Meeting the .NET system requirements to be used.
CD-ROM including manuals, sample programs etc is not included. Please download from the button below.

Made in Japan
Product Description
[Full set to assemble various robots]
In this set, various robots such as 6 leg type robot, Dinosaur type robot, Humanoid type with gripper hand type specification etc you can assemble. Also, since all parts of the KXR series are included, you can also assemble your own robot.
Points of Ver.2: More examples can be assembled!
Ver.2 has more parts count than Ver.1. Therefore, the types of robots assembled have increased.
Examples of robots assembled with this set
    KXR-L2G Humanoid type (with with gripper hand)
    KXR-L2 Humanoid type (Standerd / 16axis)
    KXR-L2C4 Humanoid type (With neck axis / 17axis)
[High Torque Servo KRS-3304 R2 ICS included]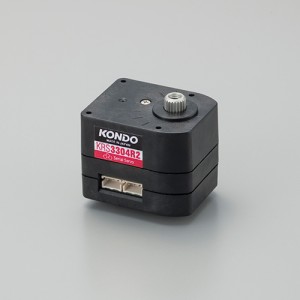 6 pieces of KRS-3304R2 capable of outputting torque of 13.9 kg · cm are included though it is small size. By using it in a place where the load such as the robot's leg or the arm of where the robot root is applied, it is possible to perform a more stable operation.
[Adopted KRS-3302 ICS for standard servo]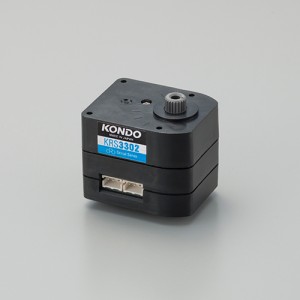 KRS-3302 ICS is a small servo of cube type design. Although it is a low cost servo which adopted plastic gears and a core motor, it has smooth motion and firm holding power.
[Programming with Arduino]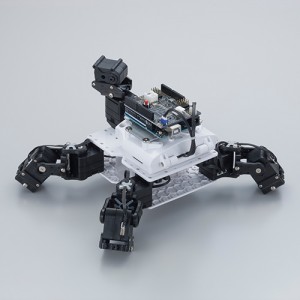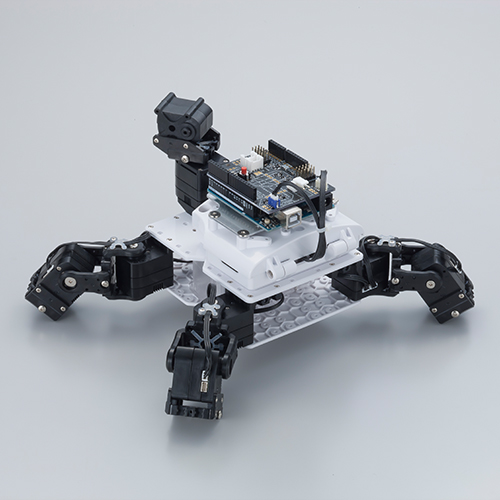 Arduino UNO can be mounted to the backpack of KXR by using optional item "KXR option board mounted set". 
    Option board set B for KXR (included ICS conversion board)
    Option board set C for KXR (included RCB-4 conversion board)
    Shield Set for KXR Programing study (for Arduino)
    * Humanoid type such as KXR-L2 is not supported.
    * Arduino, and each mounted set are not included in this set.
[Example of creation: 1 KXR-L6 6 leg type]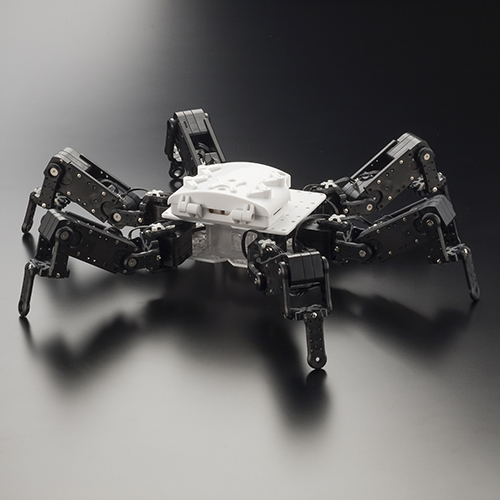 Servo: 18 axis (3302: 12pcs / 3304R2: 6pcs)
Size: 401(H) x 198(W) x 249(D)mm
Weight: 1,060g
It is a 6-legged robot. This robot uses three servos for each leg. It is possible to convert from a flat basic position to a high position state. Very stable walking motion is possible with six legs.
[Example of creation: 2 KXR-L4D dinosaur type]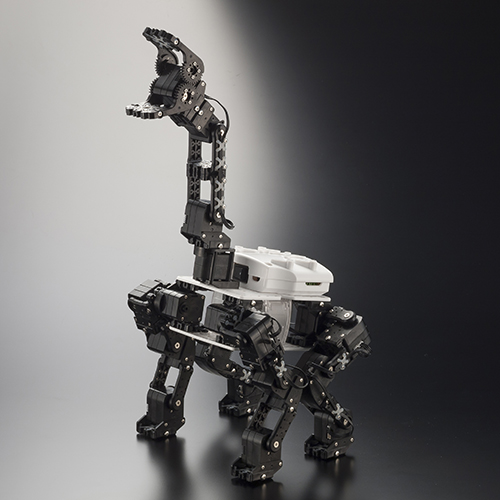 Servo: 18 axis (3302: 12pcs / 3304R2: 6pcs)
Size: 79(H) x 524(W) x 455(D)mm
Weight: 1,180g
It is a dinosaur type robot with four legs. In the set contents, since the upper and lower axes of the neck and the hand section are operated, it is possible to grab and carry items.
[Example of creation: 3 KXR-L2G humanoid type with gripper hand]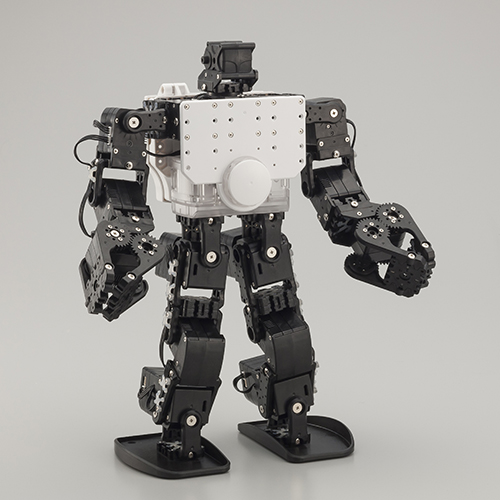 Servo: 18 axis (3302: 12pcs / 3304R2: 6pcs)
Size: 295(H) x 224(W) x 107(D)mm
Weight: 1,220g
KXR-L2 Humanoid type with gripper hands mounted. Since the hands open and close, it is possible to grab a light weight object and carry it. This robot has three KRS-3304R2 on each leg. A more stable walking motion is possible compared to the standard humanoid type.
[Example of creation: 4 KXR-R4LL RoverLL type]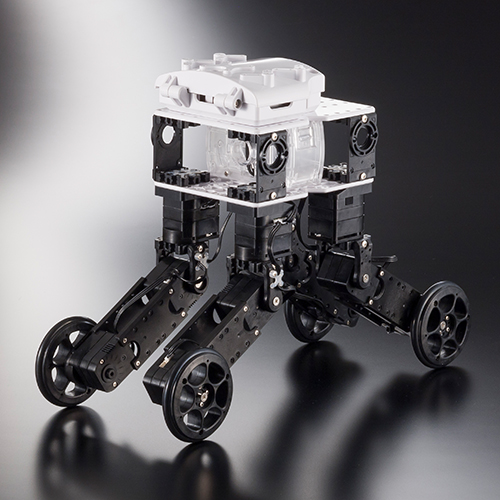 Servo: 12 axis (3302: 12pcs / 3304R2: 0pcs)
The robot name "LL" stands for Long Legs. Since the servo is contained in the joint of the long leg, you can change the height of the car freely. It is possible to move over obstacles by using this change in height.
[Features of the KXR series]
You can remodel with a combination of parts.
Based on the KXR kit, it is possible to easily combine parts into a robot that meets the purpose.

Parts of special material
Servo arm and joint parts adopt reinforced resin with glass fiber and has high durability and sufficient strength to withstand violent operation of robot.
Part design that is easier to assemble
It can be expanded by combining parts, improving assembly performance. Detailed assembly manuals are released so you can build a full-fledged robot by assembling according to the procedure.
Backpack with sensor mount
Besides the control board which becomes the brain of the robot, the back pack can also be equipped with a gyro sensor, acceleration sensor, receiver of wireless controller.
*Sensor and wireless controller are not included in this kit.
What you can do with this kit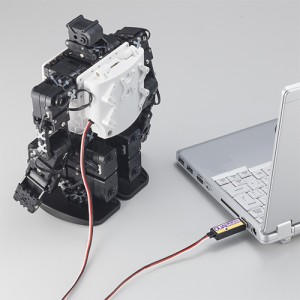 This kit is a simple configuration of the robot itself. You can communicate with the PC via wired using the included USB adapter. By using the dedicated software "HeartToHeart 4" installed on the PC, you can perform all tasks such as robot maintenance and motion creation, registration and playback.
By adding optional sensors and units to this kit, you can perform wireless control and automatic correction of walking etc.
Dedicated motion creation software available
KXR can use the motion creation software "HeartToHeart4" for free download. By using this software, you can easily create motion with the mouse without using the programming language. Moreover, by using "teaching function", it is possible to read pose created by directly moving by hand, and it is possible to create movement more easily.
In addition, maintenance of the robot and voltage check of the battery are also possible.
Numerous sample motion downloadable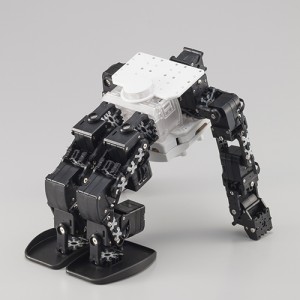 KXR-L6, L4D Dinosaur type, L2G with grip hand, etc. You can download the motion of each robot. Basic motion such as walking can be easily moved by robot registration only after assembly.
Small charger included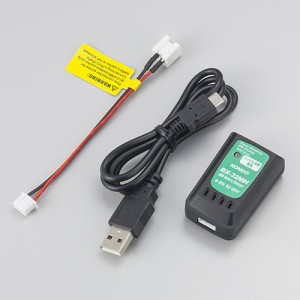 A small charger of USB connection type is included to the set of KXR. This is compatible with USB compatible AC adapter used for charging smartphone etc. Please use 1A or 2A output type AC adapter.
*AC adapter is not included in the set, so please prepare separately.
[caution]
This charger can not be charged from USB of PC or electrical equipment.
If you charge from PC, PC may be damaged
Please be careful not to connect absolutely.
Manual: BX-32MH
[Recommended options]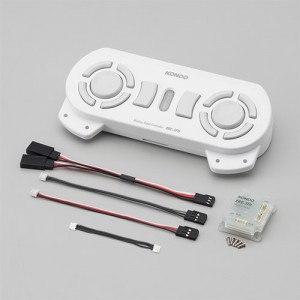 Wireless controller: KRC-5FH Transmitter and receiver set
This controller enables radio control of the robot.
The set includes receivers and cables.
Please refer to here for mounting method.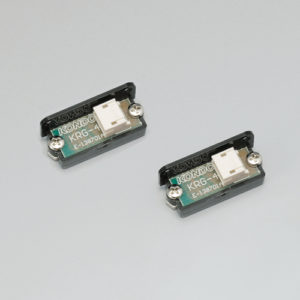 Gyro sensor: KRG-4 set with ZH<>ZH 2pcs
This is a sensor for detecting the robot stability and automatically correcting it when walking. Since this gyro sensor can detect only one axis, please use one for the front and back direction and one for the left and right direction. It is recommended for humanoid robots.
Please refer to here for mounting method.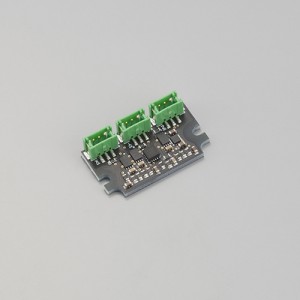 Acceleration sensor: RAS3 B set with ZH<>ZH
When the robot falls down, it can judge whether it is face up or face down by the sensor. This makes it possible to automatically determine in which motion the robot stands up. This sensor can detect three axes, so install one sensor.
Please refer to here for mounting method.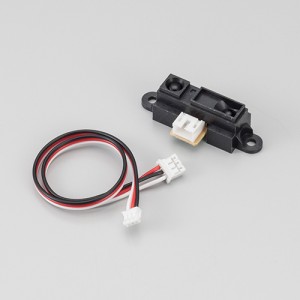 Distance sensor: PSD Sensor B set with ZH<>PH
It is a method applying triangulation using infrared rays, and it detects the distance to the object with high accuracy and high speed. Easy autonomous control is possible while connecting to the RCB-4mini and measuring the distance.
For details, please click here.
関連するオプション