KRS-2542HV ICS
6pcs set  No.03057  Open
<Spec>
 [11.1V]
 Max Torque: 11.0kg・cm
 Max Speed: 0.12s/60deg.
 Size: 41×21×30.5mm
            (Excluding protrusions)
            (Dimension)
 Weight: 35.5g
 Maximum operating angle: 270°(±135°)
 Gear:  Plastic gear
 Case:  Plastic
 Gear ratio: 193.18:1
 Power-supply voltage: HV(9-12V)
 Cable: Detachable
 Connector: Servo connector
 Communication standard: ICS3.5 (Serial/PWM)
 Baud rate: 115200/625000/1250000bps
 Initial setting: ID0 / BR115200
 Signal level: TTL
 Rotation mode: Possible
<Supported control board>
 RCB-4mini
 RCB-4HV
 RCB-3HV
 KCB-5
<Interface>
 Dual USB Adapter HS
 ICS USB Adapter HS
<Accessories>
   ZH connection cable A (300mm)  1pcs
   ZH connection cable B (300mm)  1pcs
   2.6-6 Horn screw( Flat type)  1pcs
   6pcs set
   ZH connection cable A (300mm)  6pcs
   ZH connection cable B (300mm)  6pcs
   2.6-6 Horn screw( Flat type)  6pcs
Made in Japan
Product Description
Plastic gear servo motor used in KMR-P4 and Turtle Robot 02. The motor is light and easy to use and has the same case size as KRS-2552, so its optional parts can be used without modification.
[Product Specifications]
Gears: Plastic gears
This servo has all the gears loaded with plastic. It is light weight and low price.
Case: KRS 2500 Series
Compact KRS-2500 Series case is used for a sharp, clean robot silhouette. Also, surface variations are minimal, so the frame design is simplified. Connectors are mounted in two places on the bottom case side.
Communication specifications: ICS3.5
Communication uses ICS3.5, which allows you to select between serial and PWM. Servo motor communication can be changed based on the microcomputer board used for control.
Also, in serial mode, with serial and PWM, IDs can be assigned to the servo motors, so multi-drop connection in which the servo motors are connected is possible. A red LED light indicating the communication status is mounted on the main unit. ICS3.5 allows you to change various items like the servo motor's operating speed and retention characteristics. For details, refer to the following.
* Servo motor settings require Dual USB Adaptor HS or ICS USB Adaptor HS.
[Control method]
Control from the control board "RCB-4HV"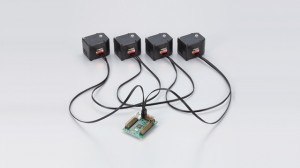 You can easily control the servo by combining RCB-4 HV with Motion Creation Software HeartToHeart 4.
RCB-4HV has 2 lines for servo control, 10 ports for analog sensor and 10 ports for digital I/O terminal are prepared.
Using HeartToHeart4, you can create motion and adjust the robot. Motion can be created by arranging controls (panels) with various functions. You can create a simple "greeting" motion, etc. You can also create complex motions such as sensors and wireless controller buttons.
By assigning ID numbers to each servo and making multi-drop connection, devices are connected and communicate.
Items:
  RCB-4HV
  Dual USB Adapter HS
  HV Power Switch Cable
Control from PC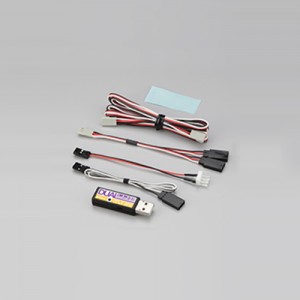 By using the Dual USB adapter HS you can control the servo directly from the PC. Please send the command referring to the published "Software manual (command reference)". Communication methods and samples are also published, so please see the following article for details.
 『シリアルサーボ制御方法(4) PCから直接制御編(その1)』
 『シリアルサーボ制御方法(5) PCから直接制御編(その2)』
Items:
Control from Microcomputer board or PC board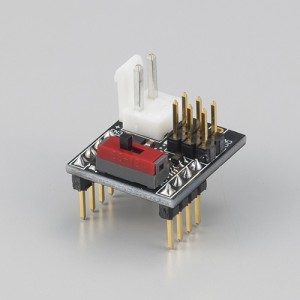 ICS devices such as KRS servo can be controlled from the UART terminal of the commercial board. ICS has the Tx (transmit) and Rx (receive) signal lines of the ICS device are integrated, it was necessary to prepare the circuit when connecting to the UART terminal. Circuits necessary for communication are prepared on this conversion board. You can communicate with the ICS device simply by connecting each terminal to the board. Please refer to "Software manual (command reference)" about communication method and command.
Items:
  ICS conversion board shield
  HV Power Switch Cable
*When using with Arduino UNO
  KSB Shield 2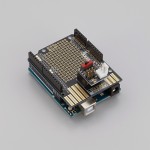 We released a library for Arduino. Please download it from the link below.
 『ICS Library for Arduino ver.2』
 For detailed usage of the Arduino library, please see this article.
 『ICS Library for Arduino のver.1.0とver2.0の違いについて』
Serial Manager
You can set the servo ID and communication speed by using the ICS 3.5 / 3.6 Manager software. Various parameters such as "stretch" and "speed" can be changed.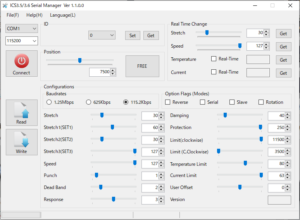 ICS3.5/3.6 Manager software R1.1.0.0
[Power supply]
For HV servo, please use 3 cell (9.9 V) Lithium Ferrite battery(Li-Fe).
  ROBO Power Cell F3-850 type (Li-Fe)
  ROBO Power Cell F3-1450 type (Li-Fe)
  ROBO Power Cell F3-2100 type (Li-Fe)
*Handling the battery requires caution.Please read this article before using.
Charger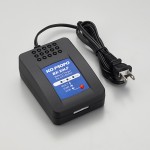 AC Adapter
For robots with fewer servos mounted like arm type, you can use the following AC adapter. Be careful of the current capacity when using it.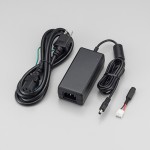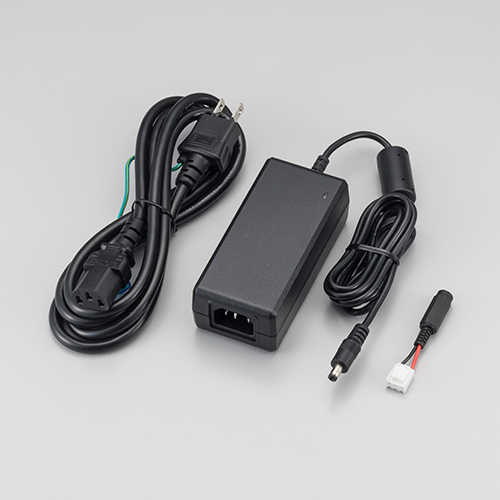 Information on KRS servo is prepared collectively in "ICS · KRS Servo Development Material". In addition, we also have various information on robots in "Technical Guide", so please refer to it.
関連するオプション